Bengaluru: A passage on Hindutva ideologue VD Savarkar in a Karnataka school textbook when he was jailed in Andaman Nicobar island has gone viral. This has yet given rise to discussions around the government's earlier decision to revise textbooks even as the state witnessed violence a few days ago over posters of Savarkar and Tipu Sultan in Karnataka. The textbooks being referred to currently are second language Kannada prescribed for Class 8 students.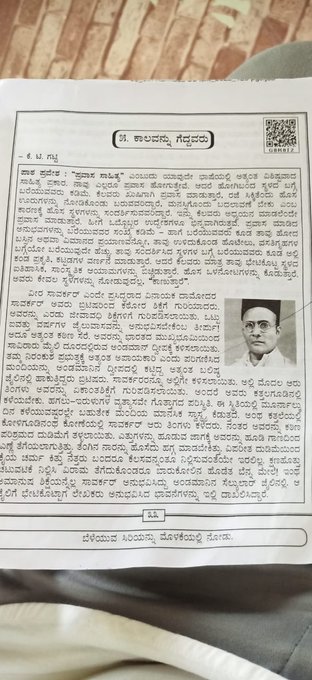 The revision was made by the contentious Rohit Chakratheertha Committee, which stands dissolved as of now.
Chakratheertha was accused of 'saffronising' the school textbooks. There were also claims that chapters on Bhagat Singh and Tipu Sultan were either dropped or trimmed and the speech of RSS founder Keshav Baliram Hedgewar was included in the textbooks. The current lesson in the textbook, which has sparked a row, is 'Kalavannu Geddavaru' written by KT Gatti, which replaced an earlier lesson called 'Blood Group' by Vijayamala Ranganath.
A passage in the current lesson reads: "In the room where Savarkar was jailed, there was not even a small keyhole. However, Bulbul birds used to visit the room from somewhere, on whose wings Savarkar used to sit and fly out to visit the motherland daily." Netizen Arun Krishnan said that "Savarkar himself would have cringed at this description". "I agree we need to get Savarkar into our school textbooks. But does it have to be done in this hamhanded way? Savarkar himself would have cringed at this description," he tweeted.
This story was originally published in news9live.com . Read the full story here