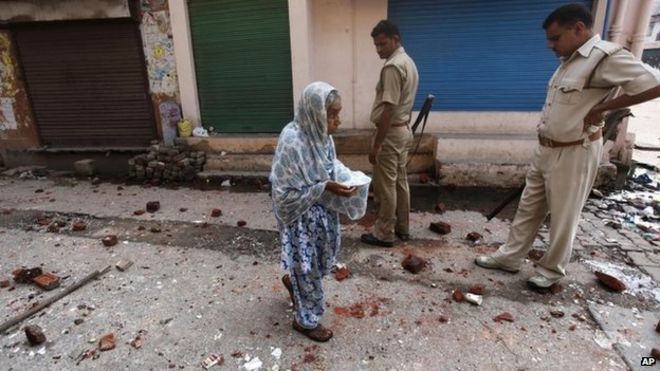 Nearly 50 people died in the Hindu-Muslim clashes which erupted on 7 September in India's town of Muzaffarnagar. The riots have been described as the worst in India in a decade. Tens of thousands of people fled their homes in the violence. The BBC Hindi's Avinash Dutt Garg visited the affected region.
Abdul Aziz, a Muslim victim of riots, has taken shelter in a small two-room house near an open drain in Shahpur village.
Mr Aziz, 72, lost five members of his family, including his son, to the violence.
Taking pity at his advance age, a generous Muslim has taken him into his home. His remaining family are camping at a nearby Islamic seminary where an unofficial relief camp has been set up by Muslims.
Mr Aziz and his family belong to Kutba village, 6km (3.7 miles) from Shahpur, where Muslims are a small minority.
Though reports of skirmishes between Muslims and the Hindu Jat community were coming in from nearby villages, Mr Aziz and his family didn't flee their homes.
'They slit his throat'
"On 7 September, the head of the village council assured us that there was nothing to fear," he tells me.
They had no reason to disbelieve him. Muslims and Jats had never before clashed in the region of western Uttar Pradesh state which otherwise has seen many riots between Hindus and Muslims in the last six decades.
Mr Aziz says he will regret his decision for the rest of his days.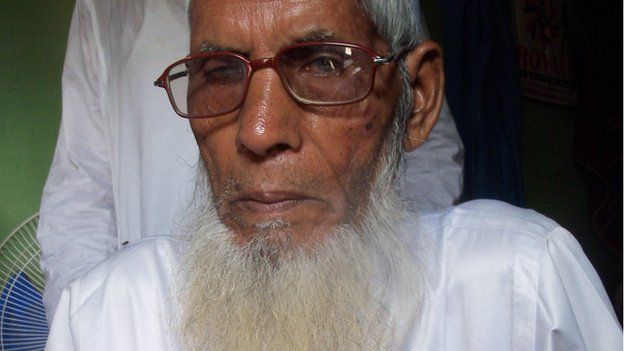 "Around 9am on 8 September, armed bands of Jats started attacking Muslim homes.
"They first burnt down a local mosque, then they started attacking individual homes. Around 10:30am, five male members of my extended family, including my son, were killed. They were out on the street, defending the elderly, the women and the children who were locked inside our homes."
Rubbing his index finger on his throat, he says in a barely audible voice: "They slit his throat."
The fighting in Kutba went on for two hours after which the police arrived and escorted Muslims to safety.
Mr Aziz and many of his neighbours chose Shahpur, a Muslims majority village.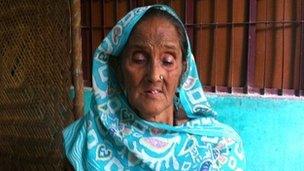 Though the law and order situation has improved in the past fortnight, Mr Aziz is not ready to go back. "I have given up everything," he says.
Now the government is trying to allay fears of those who have fled their homes.
Praveen Kumar, superintendent of police in Muzaffarnagar, says police will ensure that those who choose to return remain safe.
For this, he says, police have approached elders from both the communities and also offered to provide other support.
'Fake' video clip
According to reports, the trouble started last month after a young woman from the Jat community was harassed by a Muslim man in Kawaal village.
On 27 August, the stalker was allegedly killed by two brothers of the woman. Hours later, the brothers were killed too.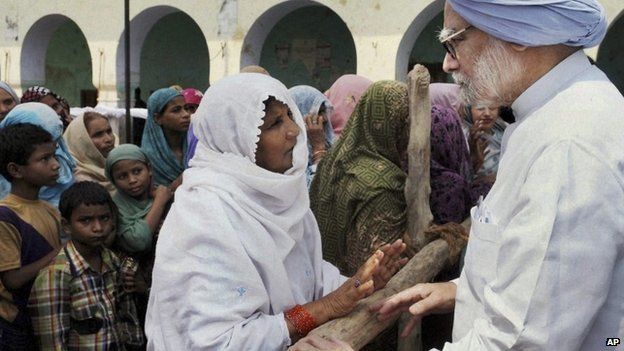 The violence that followed left dozens more dead and forced 40,000 people, mainly Muslims, to flee their homes. More than 18,000 people still remain in camps.
Reports said the riots worsened after a video clip emerged, showing two boys being brutally slaughtered by a mob.
Though the administration later clarified that the clip was shot in Pakistan a couple of years ago, the damage was done. The clip is still in circulation in Muzaffarnagar and not everyone here believes the official version.
Police have announced a reward of 100,000 rupees ($1,598; £1,004) for anyone who provides a clue leading to the man who first circulated the video in Muzaffarnagar.
However, most riot victims and many people in the town here blame politicians for the violence.
"These are politically engineered riots to polarise voters ahead of next year's general elections," says Rajeshwar Dutt Tyagi, a senior lawyer in Muzaffarnagar.
Meanwhile, political parties have accused each other of starting the riots – India's main opposition Hindu nationalist Bharatiya Janata Party has blamed the ruling party in the state, Samajwadi Party which, in turn, has blamed leaders of opposition parties in the state, including the BJP, the regional Bahujan Samaj Party and India's governing Congress party.
In the last few days, at least three politicians have been arrested on charges of inciting violence through "inflammatory speeches".
However, while Abdul Aziz's family was being massacred in Kutba village, the neighbouring village of Kutbi has been the study in contrast where Bohti Bi, an elderly and ailing Muslim woman, is being looked after by her Jat neighbours after her three sons and all the other Muslims fled their village fearing riots.
In Kutbi, the mosque remains standing and the Hindu neighbours have been looking after the homes and cattle left behind by the Muslims in their hurry to escape.
This story first appeared on BBC.com on September 25, 2013 here.