Protests broke out across nine states, including in major cities such as Kolkata, Mumbai, Chennai, Hyderabad and the capital New Delhi, mostly around university campuses. Meanwhile, ongoing protests in Assam, in India's northeast, turned violent, with at least five people killed, police said.
In Delhi, students began demonstrating at the prestigious Jamia Milia Islamia university early Sunday, with around 2,000 people taking part at the protest's peak. Hundreds of people were injured in the protests, and dozens arrested, as well as significant damage to the campus, said Najma Akhtar, the university's vice chancellor.
Protesting students from the university told CNN they were beaten with batons and sticks, leaving 200 injured according to the university administration.
But this contradicts the Delhi Police's version, who say they were unarmed and used minimum force to bring the crowds under control.
What is the Citizenship Amendment Bill?
Anger has been growing nationally over the Citizenship Amendment Bill (CAB), which was signed into law last week. The bill promises to fast-track citizenship for religious minorities, including Hindus, Sikhs, Buddhists, Jains, Parsis and Christians, from Afghanistan, Bangladesh and Pakistan who arrived before 2015.
But the exclusion of Muslims — which Indian Prime Minister Narendra Modi says is because they are not minorities in India's neighboring countries — has raised concerns about the bill's constitutionality and the growing anti-Muslim rhetoric in India.
Many in Assam and Tripura, states in India's northeast, also fear that it could see large numbers of Hindus migrating to the region, outnumbering the region's 200 distinct indigenous groups and changing its religious and ethnic makeup.
There are around 16 million Hindus in Bangladesh alone, and naturalizing large numbers of immigrants could also greatly impact employment, government subsidies and education.
Students recall police brutality
The protest at Jamia Milia Islamia was not organized by the university or its students, according to its vice chancellor Najma Akhtar. "From the areas around the university, a call had gone out for an organized protest," she said.
Akhtar said protesters broke through a gate at the university, pushing guards aside, then hid in a college library. She said some students were beaten by police officers in the library and were being treated for their injuries.
Akhtar said police did not have permission to come on campus. Some students told Indian media that officers forced their way into student accommodation and the library and dragged students out.
One student protester, 21-year-old Hanzala Mojibi, said he was among the group who ran from the police advance into the library.
"We were about 200-300 people who were trapped inside," he told CNN. "We tried to negotiate with the police to not use violence. But they surrounded us and took our phones and broke them. They broke the CCTV cameras installed there."
Mojibi said police "abused and humiliated us."
"We were made to kneel on the ground for 30 minutes and at any time they heard any students resisting, they would beat us in retaliation," he added. "Afterward they told us to leave the college."
Meanwhile Delhi Police spokesperson, MS Randhawa, told reporters Monday that the police used "maximum restraint" and "minimum force" throughout the weekend's protests.
He added that protesters threw "bulbs" and "bottles" at police, set buses on fire, and damaged around 100 vehicles. Dozens of officers were injured in the incident, said Randhawa.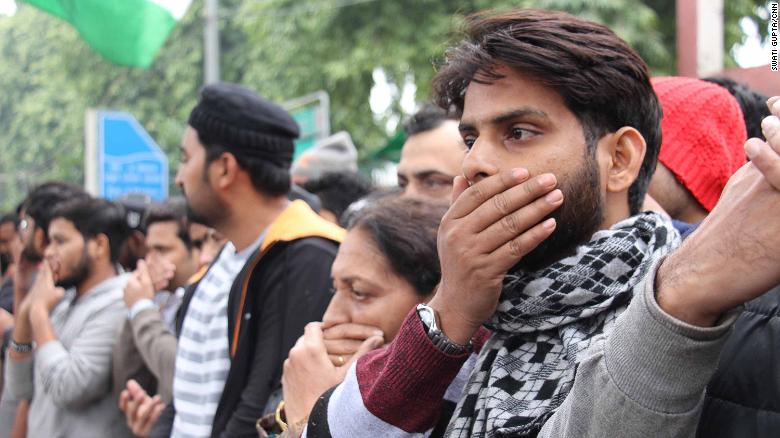 On Monday, the university library where the students had taken refuge was a scene of devastation. CNN reporters found doors and windows smashed, glass littering the floor, abandoned shoes, and overturned tables and chairs.
Security cameras were also broken — which students said police had done.
A few hundred students still gathered outside the university gates, holding placards calling for justice and secularism. Most were men, with many female students having left in fear following Sunday's violence, those still remaining told CNN.